Yosef head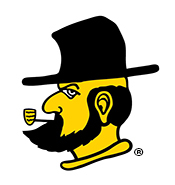 The Yosef head trademark communicates Appalachian school spirit. It is used on a wide range of informal print pieces, products, and Web applications.
Yosef head guidelines
Do 👍
Do use for informal occasions. When a bolder, more informal look is desired, the Yosef head should be used, particularly by student groups and alumni organizations.
Do apply the ® registered symbol. The Yosef head is a registered trademark. The ® symbol must be applied when printed on merchandise. It is a best practice to always include the registered symbol.
Do keep the Yosef head aspect ratio. Lock the aspect ratio of the Yosef head trademark when resizing. It should never be stretched or distorted.
Don't 👎
Don't recreate the Yosef head. The Yosef head trademark must be reproduced from official artwork. You can't change any element proportions or color.
Don't substitute or reverse the colors.
Don't add elements to the Yosef head.
Don't style the Yosef head. An outline, drop shadow, or bevel should not be used on the Yosef head trademark, and the perspective view should not be altered.
Don't flip the orientation of the Yosef head. The Yosef head must always face left.
Don't use the Yosef head on the official university letterhead or business card.